Roll Damn Tide. Best overheard line (from Reddit): "The Irish haven't suffered like this since the potato famine." A friend notes he saw another pithy line on Facebook: "They kept talking about Notre Dame having an SEC caliber defense. Unfortunately, it was Auburn's." ZING.
I'm just sorry we didn't get the shutout. Best trivia-stat I've seen so far: AJ McCarron now has been on more championship teams (3, because he was a redshirt on the 2009 team that beat Texas) than he has losses as the starting QB (2: LSU last year, A&M this year).
Speaking of AJ, here's his girlfriend and his mom (the girlfriend now has over 130,000 followers on Twitter after Musburger's creepy comments):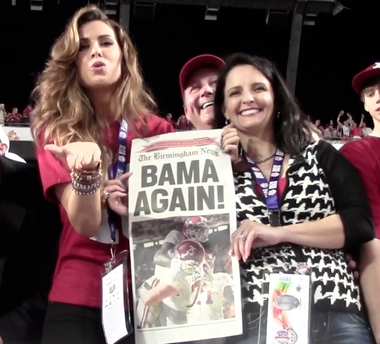 So, yeah, back to back titles. But 3 in 4 years just means Nick is still pissed off about the 2010 team missing the mark, and God love him for it.
This game is particularly delicious, because Notre Dame is one of only two teams with what I'd call a statistically meaningful winning record vs. Alabama (more than 5 games), and are two of only three teams who are "ahead" of us by more than a single game. I broke this down before season started, but it's worth updating:
Texas: 1-7-1, last in 2009 title game (W)
Notre Dame: 2-5, last in 2013 title game (W)
Texas Christian: 2-3, last in 1975 (W)
Boston College: 3-1, last in 1984 (L)
Oklahoma: 1-2-1, last in 2003 (L)
Rice: 0-3, last in 1956 (L)
UCLA: 1-2, last in 2001 (L)
Rice, obviously, is the other team that's more than a game ahead on the series, which is hilarious — and also not likely to ever change.
Note this is a shorter list than the August version: we evened up against Michigan and Missouri in routs during the regular season. Unfortunately, it'll be at least another 2 years before we once again have a winning record vs. the entire SEC — we don't play Missouri in 2013. (Also, I removed Louisiana Tech — on the field, Alabama is 3-2 vs. the Bulldogs, but the source I used in August reflected a sanction forfeit that flipped it to 2-3.)
So anyway, Roll Tide Roll, and see you in August.
One more thing: RAMMER JAMMER:
(As a footnote, let me add that this site is a pretty great research tool. No idea who put it together, though.)