I saw this today at Talking Points Memo: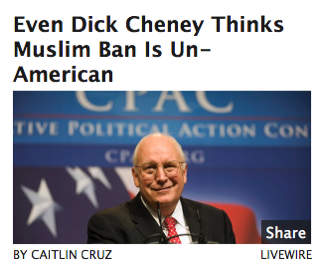 There's zero chance this is a principled stand by Cheney. Make absolutely no mistake here, and remember that Cheney is a guy who thinks torture, indefinite detention at the will of the state, and invading unrelated countries in response to nonstate terror attacks are all fine and dandy.
No. This is about trying to ice Trump, because now the GOP establishment is well and truly terrified because he keeps not going away. If Trump is the nominee, they're fucked, because most people won't vote for this preening fascist blowhard, and the Democratic nominee wins in a walk. If Trump survives long enough in the polls to contemplate a third party run, their base is split and they're fucked, because without every single angry reactionary white vote, the Democratic nominee wins in a walk.
Here's the thing, though: This is a bed the GOP made. I've been making this point for a while, but the most succinct formulation of it is probably from Wil Wheaton on Twitter:
The GOP's been laying the foundation for Trump since Nixon's Southern Strategy and Reagan's Welfare Queens. None of this should be a surprise.
If you spend 40 years building your politics on fear and hate of the Other, you shouldn't be surprised if you eventually get a candidate like Trump that's willing to say and do horrifying things to please the increasingly agitated core.