Word comes that Roger Moore has died at 89.
Moore, obviously, is known as the post-Connery Bond, but true nerds recall that he was actually the third guy to play 007 (in the Eon Productions films, which are all that really matter). When Connery bowed out after his fifth outing (You Only LIve Twice in 1967, which is the one where he teams up with a Japanese agent and goes undercover in, basically, yellowface before the final fight in a volcano base), Australian model George Lazenby took over for a single picture (the underrated On Her Majesty's Secret Service, co-starring Diana Rigg and Telly Savalas!) before Connery's code (Diamonds are Forever, featuring a thinly-veiled Howard Hughes proxy and Crispin Glover's dad as one half a very creepy assassin team). Moore first appears in the next film, 1973's Live and Let Die.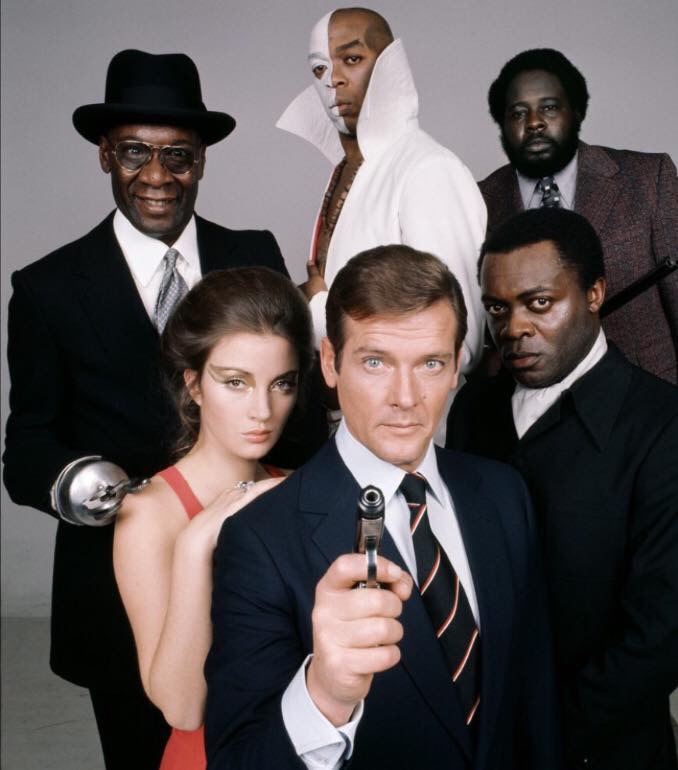 At right, a GREAT cast photo. There's a LOT going on there, which fits given the lovable mess of a film it's from, but allow me to point out:
After this auspicious debut, Moore went on to have the longest tenure in the role: a total of 7 films over 12 years. His swan song came in 1985 and is, sadly, is almost certainly the worst of the bunch. By then, Eon Productions was completely out of Fleming books to adapt (with one key exception they wouldn't touch for 20 years), so I guess it makes a little sense that, in the middle of the 80s, they'd feel fine about a 58-year-old Bond chasing a crazed millionaire (Christopher Walken!) whose aide-de-camp is Grace Fucking Jones. Hey, while we're at it? Why not a fight on the Eiffel Tower!
Sigh.
Of course, it's not his fault that the films had veered hard into silliness and camp by that point; he had some great ones — the debut, obviously, but also The Man With The Golden Gun (a prosthetic nipple!), The Spy Who Loved Me (hot Russians! submarine sports cars! the greatest opening scene ever!), and Moonraker, about which more later.
He was a more suave, mature, and sophisticated Bond than Connery or those that came after (though maybe Brosnan's version was close), and for most people of my generation he was our first exposure to the character — sort of the Tom Baker of the series, really. As noted, Moore's got the most films and the longest tenure, a record that doesn't seem likely to fall. Connery did only 6 films to Moore's 7. Brosnan and Dalton together only account for 6 more. Craig may or may not do a 5th film, but he'll certainly be done by then.
My first Bond film was Moonraker. I saw it in a drive-in with my dad, in a time when drive-ins were already well on their way out. It was obviously derivative — Star Wars made everyone want to do SF all of a sudden, so Bond-in-space was in some ways inevitable — but it's held up okay, especially considering that it's only the second time Eon Productions was "on their own" with no novel to draw from. We got the second coming of Richard Kiel's 7-foot, steel-toothed Jaws, memorable weightless nookie, and a "Bond girl" whose naughty name (Holly Goodhead) flew entirely over my 9-year-old head. I was obviously smitten immediately, and quickly devoured the back catalog via the newfangled VCR my newly-divorced dad would soon acquire. Impossibly, my Baptist grandmother even bought me some of the books.
Anyway. Godspeed, Roger Moore. I noted not long ago that we're likely to lose several more Doctor Who actors in the short term. The first three are already gone, and Tom Baker is 83. The same can be said of the Bond men: Lazenby is 77; Connery is 86. Tim Dalton is 71. Brosnan is 64. And we are, all of us, getting older right along with them.