This is low-key hilarious.
As many of you know, my father in law passed away Monday morning. As designated family tech and photo person, I've pulled together a set of pix from over the years and assembled a slide show for the family to use in the eventual service.
I used the Photos app on my Mac, because it's easy to do, and it comes with themes and does a pretty good job of assembling transitions and stuff. It even comes with free-to-use background tracks!
Photos can export to video, and I then uploaded the video to YouTube to make it easy for my mother in law & etc to use and share.
Which is where it gets weird, because I just got this from YouTube's copyright squad: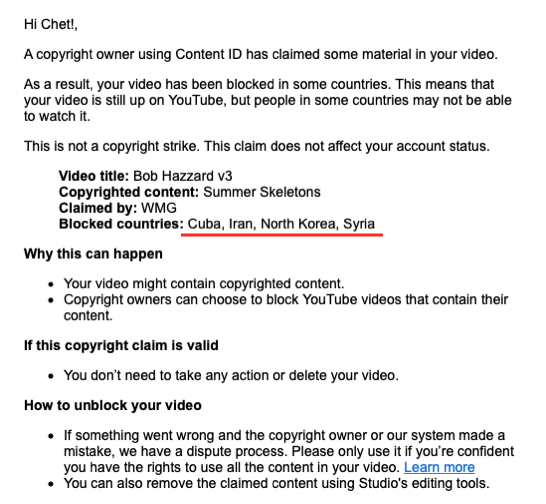 Fortunately, nobody in those countries will need to see the video. I am, however, wildly curious as to how Apple's supposed free-to-use music is encumbered by copyright only in Cuba, Iran, North Korea, and Syria. I mean, WTF?