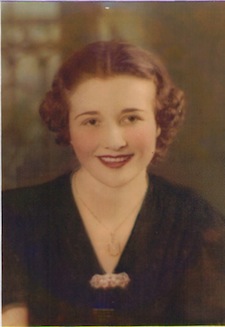 Sometime when I was about ten, maybe a little earlier, my father's mother taught me to play Canasta. In these mad-for-Mad-Men days of 2012, maybe a retro card game sounds like a very hip thing to do, but back then, not so much.
I'm sure she taught me to keep me settled and focused on something, because to hear my elders tell it I could be a bit of a hassle — constant questions, lots of ideas, etc. Canasta, with its seemingly endless arcana of rules and plays, probably seemed like just the ticket. She even had a Canasta deck — it's played with two decks, including jokers — and a draw-and-discard tray that I think is made from Bakelite.
Canasta is a rummy game. The object is to accumulate melds of the same rank and, eventually, to discard your final card. Seven or eight in a meld is a Canasta, and scores bonus points — 300 more with wild cards, 500 without. Red threes are bonus cards. Black threes and wild cards freeze the pile. Twos and jokers are wild. Aces are worth 20. Face cards are 10. Draw two, discard one. We play to 5,000.
We'd play game after game on my visits, hunched over an endtable in the living room, with her on one end of the couch and me appropriating the recliner that had been my grandfather's before he died in 1979. Mary — called Mom, as her "nom de grandparent" — had been trained as a schoolteacher, so I guess she knew something about teaching little boys. She had also raised my father, who by all accounts was no less of a handful than I was, and for the same reasons.
Fueled by the sorts of indulgent foods only grandmothers in the 1970s bought, we'd play for hours every time I visited. The rules stuck; I played a little of the four-hand version (the "real" version) in college, when a girlfriend and I would have cheap dinners with another couple we knew. And recently I've returned to that two-hand variant with Erin, at which she's skunked me more often that not. But I never play at all without remembering being small in a big green recliner, struggling to hold the massive collections of cards one ends up with in that game, and listening intently to my grandmother giving me pointers. I can still hear her voice, and I can still remember the worn places on the wooden arms of the chair where my grandfather's hands had been.
Life is weird. I have friends with children older than I was then. My mother is older now than Mom was then, but seems so much younger. This is how life is, people say, and it just becomes increasingly true and obvious as we age — yet another tedious thing that cannot be explained to a 20 year old.
Mary Opal Janous Farmer was born on April 8, 1915. This seems impossibly long ago now, but it's true. She attended Delta State for her teacher's training, where she met and was engaged to Isaac Chester Farmer, from Simpson County, then preparing for medical school. Their engagement lasted five years;they were married two days after Christmas in 1937. She was 22, he was 26, and the rest of their lives stretched in front of them.
My grandfather's journey ended in 1979. Mary traveled on quite a bit farther. She lived to see her grandchildren — my brother and I, and our two cousins Lauren and Lydia — grow to adulthood. She attended weddings, and met great-grandchildren. Frank and I even got to take her to lunch at Galatoire's one summer afternoon in 2001, which is a story my aunt says she'd tell to anyone who would listen for months thereafter.
However, to the very best of my knowledge, she taught nobody else to play Canasta.
This afternoon, about an hour ago, Mary laid down her cards and went out. She was 97.