Glad you asked! I had a little adventure, as I think you are aware.
Day One
We started bright and early on Saturday morning, though a little less bright and a little less early than we intended. It worked out for the best, at least for me, in that I ended up riding alone with a faster teammate (who'd also been running late) until we got to Belleville, about 45-50 miles into the 100 mile first day (link's to the Garmin site, and contains basically all the data captured on the ride). Riding with Adrian made me faster, partly because riding with someone is just better, and partly because I could draft him (thanks, man).
Consequently, I covered the first 40 miles at a generally unheard-of for me average speed of 17 MPH. That's not fast by serious bike standards, but it's absolutely a personal best for me. (It would be unsporting not to note the tailwind, of course.)
Adrian and I parted ways in Belleville, as I said; he took the official lunch stop, which remains criminally awful, apparently — you get a sandwich fit for a 3rd grader and crappy pasta salad with several thousand of your closest friends. It's no wonder many of the bigger, richer teams opt for a private lunch stop. I took a page out of their books, though, and staged refreshments with my dear pals the Acostas, who also provided lunch and a special cheering section at the edge of their Belleville ranch: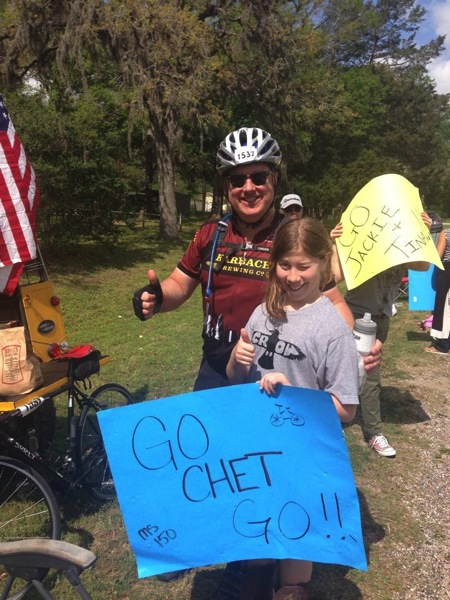 That beat the pants off the circus that was "official" lunch. I paused there for 15 or 20 minutes before riding on, refreshed and at least somewhat rested and theoretically ready to tackle the hardest miles of the ride, in my opinion: Belleville to Fayetteville. If you click through to the Garmin site on the link above, the first graph below the map is my speed plotted over a Y-axis of either time or distance. You can easily see both the wreck-mandated stop about 15 miles into the ride, and the sudden yo-yo of my velocity as I hit the hills at about mile 44; sadly, I never sustained that kind of speed again on either day, but that's what crosswinds and hills will do for you.

(The graph never hits zero because the Garmin autopauses if you stop; however, the deep dips at mile 51 and mile 58 are (a) me stopping to call Edgar and verify his location and (b) the actual lunch stop; other, later deep dips are also rest stops.)
To be fair, the real killer for my speed after lunch was the rolling hills. As Garmin link shows, you end up doing about 3,000 vertical feet of climbing on the day one route, which isn't exactly trivial, and doesn't get erased by the fact that you're basically climbing the same few hundred feet over and over (the actual elevation difference between Houston and La Grange is only about 300 feet).
The best I can say about the rest of the ride is that it wasn't always windy and hilly. But when it wasn't windy, it was hilly; and when it wasn't hilly, it was windy. And the worst winds, sadly, came on the final stretch down 2145 to La Grange's Jefferson Street, when we turned more or less INTO the wind down a stretch of road with very little protection. That you're almost done (maybe 7 to go?) at that point doesn't help much when the wind hits you.
Around this point I realized that the course was slightly short, at least according to the Garmin. If you zoom into the map closely, you can see how I handled it. Once I realized I was only going to log 99.2 miles, I turned around and backtracked for 0.4 miles before heading in. Think about it: would YOU spend 7 hours in the saddle and NOT have your GPS say you rode the full century?
The other fun thing is something Strava calculates for you. Strava, if you don't know, is sort of a cycling Facebook that's gaining steam largely because of the way that make it simple to compare your performance to other cyclists. One of their metrics is the Suffer Score. I knew I was miserable towards the end, and it appears I now have the metrics to prove it!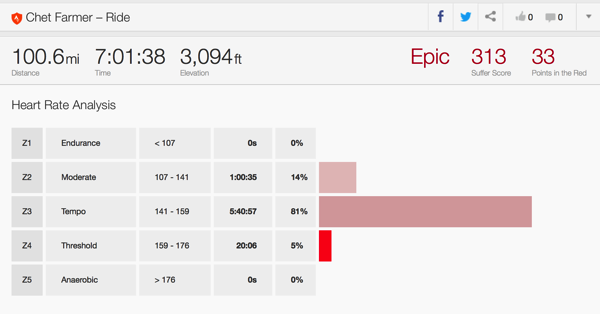 "Epic suffer score, Brah!"
Day Two
I'm pretty sure that graphic is also the punchline for day two, because I didn't (and couldn't) hit it nearly as hard. I felt pretty low energy, and the storm clouds brewing certainly weren't helping my mood. I couldn't seem to make my legs work as hard as they had on Saturday (hello, fatigue — unsurprisingly this shows up in the stats as persistently lower heart rate).
Even though day two is much shorter — "only" about 68 miles — this time around I had real trouble, and I think it was both pushing so much harder on Saturday, and then not getting fueled enough early enough on Sunday.
Fortunately, I got to address both of those after lunch. The team started trying to ride together starting at the next-to-last stop — we actually rolled out of that one in a pace line 15 or more riders long, much to the chagrin of some uptight folks on other teams — and got serious about it in the last 10-12 miles.
Here's the line; I'm not in this shot, which means I was either further up or further back, but it gives you an idea how it was going at that point: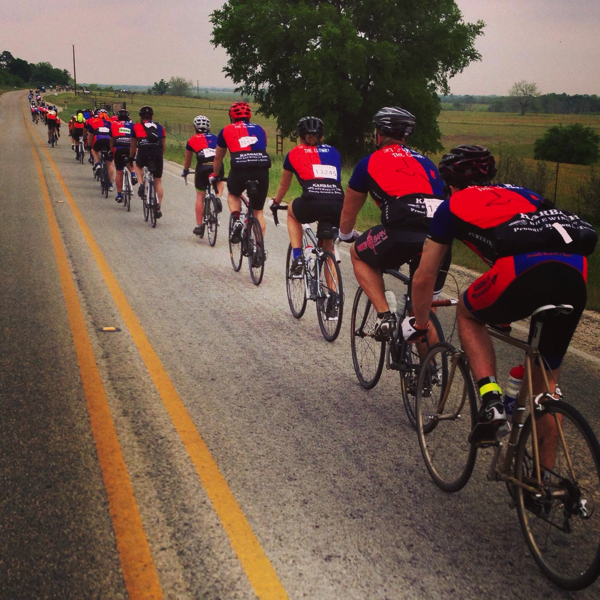 This process took effort, because even with the fastest guys holding back, and middle-of-the-pack guys like me, it took time for the slowest folks to catch up with us. We took long breaks at the final rest stop, and then at two different appointed "rallying points" before we rolled into Austin proper — and then held up again, super close to the finish, to make sure three more could join who'd been delayed by a flat.
The result of all this was super worth it, though. For one thing, I'd recovered enough that I could ride the hills hard in downtown Austin, and for another it meant that about sixty of us crossed the finish line in a giant blur of red and blue, and let me tell you how awesome that felt!
So, what have we learned?
I will say, though, again and for the record, Austin needs to just give the fuck up on the pylon thing. They've tried both years to sequester the cyclists into a single lane (potentially workable, on a smaller event) or even into the bike lane (absolutely impossible). There are 15,000 bikers riding into Austin on the Sunday of the 150, and we travel in packs. It's unsafe to try to compress them too much in the last stretch, and downright absurd to put actively hazardous items in their way. The cones get hit and shoved all over the place, and you can't see them until the last second when you're riding in a pack.

Both years I've ridden outside the pylons for a good chunk of the Austin course because it's SAFER to be where it's less crowded. Seriously, Austin, get a clue.

Energy is key. I'm still not so great about eating enough on distance rides, and that hurt me later in the day on Saturday, and for much of the day on Sunday.

The Garmin LiveTrack is awesome — I'm shocked at how well it worked — but it needs juice, too. Even though it was only trickling data up to the web, the phone gave up the ghost about 75 miles in on Saturday, which certain people found alarming. I rode with a backup battery on Sunday, so the LiveTrack stayed up.

I gotta stay on the training treadmill all year. I'd have had much faster rides both days if I were stronger, and I'd be stronger (and lighter) if I hadn't taken like 5 months off from riding entirely. Oops.

Being loudest has its advantages; this is my team winning best jersey, awarded based on fan noise (video to follow):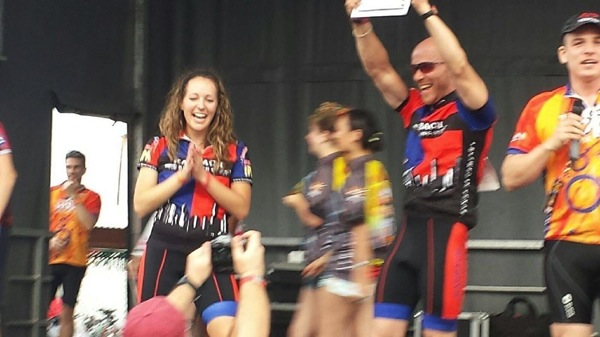 Will you be back next year?
Oh, indeed. Karbach uber alles!