Porsche is letting journalists see its new hybrid supercar, the 918 Spyder.
First, the bad news: it'll cost a million bucks when it's introduced next year. But, oh my God, this car…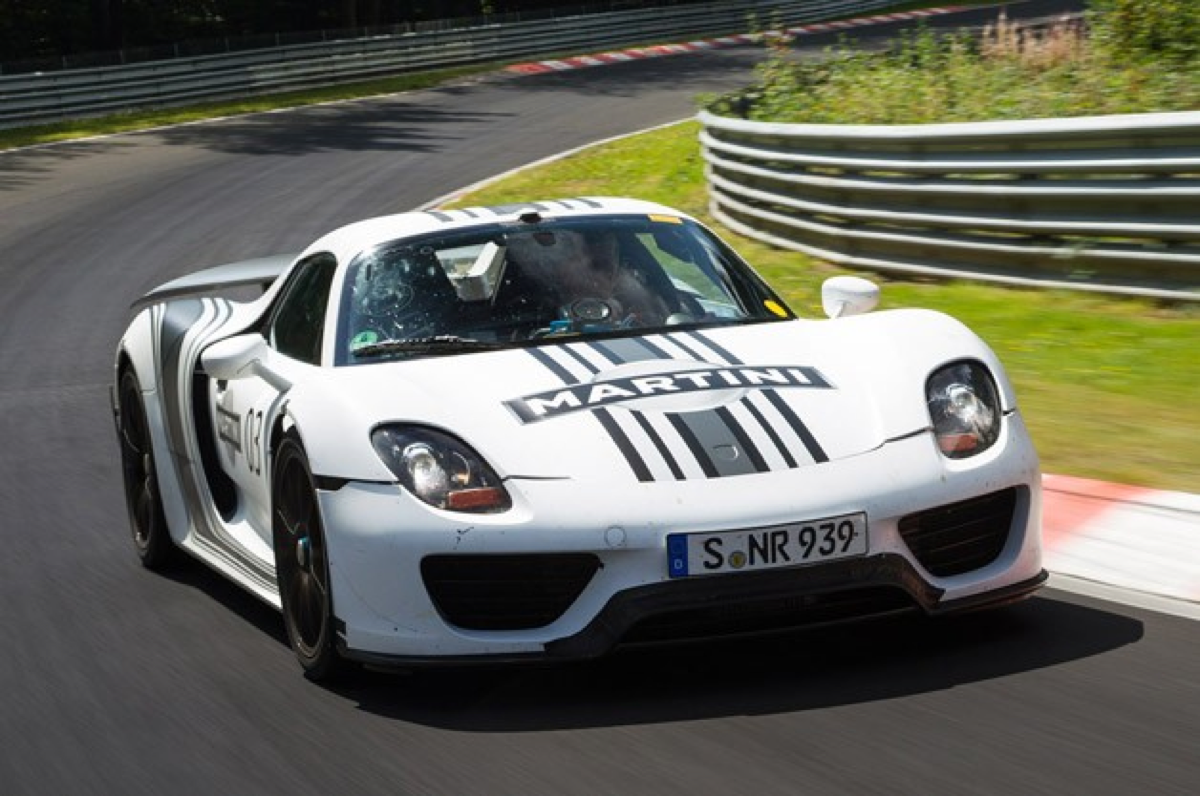 The 4.6-liter dry-sump V8, mid-mounted in the chassis, generates 580 horsepower at 8,500 rpm and 370 pound-feet of torque at 6,500 rpm. Redline is 9,000 rpm. Mounted to the V8, actually bolted together to form a single drive unit, is a 95 kW (127 horsepower) electric motor. The centrally located engine and motor send their power through a seven-speed PDK dual clutch gearbox, rotated 180 degrees on its longitudinal axis (lowering its mass closer to the pavement), driving only the rear wheels. . . . But there is more to the powertrain, as the 918 Spyder is actually all-wheel drive. Mounted on the front axle is an 85-kW (114 horsepower) electric motor, sending power to both front wheels completely independent of the rear powertrain.
And:
Add up the output from the one combustion engine and the two electric motors and the 918 Spyder's total system power is 795 horsepower and 575 pound-feet of torque. According to Porsche, the 918 will rocket to 60 mph in fewer than three seconds and reach a top speed in excess of 200 mph in its most aggressive setting. On the famed north loop (Nordschleife) at the Nürburgring, one of Porsche's 918 Spyder concepts ran a 7:14 less than two weeks ago (for comparison, Porsche's limited production Carrera GT, introduced in 2004, circled the same loop with a best time of 7:32). When it hits showrooms, the 918 Spyder will be one of the fastest street-legal vehicles in the world.

The performance numbers are impressive, but keep in mind the 918 Spyder is a hybrid – Porsche says it is capable of a scarcely believable 78 mpg on the highway.