Of course, it better be, as the Van Cleef & Arpels Midnight Plantarium Poetic Complication runs a cool $245,000.
The face itself is amazing: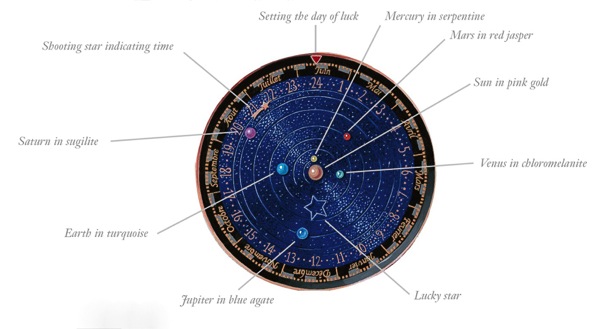 At the center is the Sun, represented in pink gold. Surrounding it are gems representing the six innermost planets, each of which rotates the Sun in real time — by which I mean Mercury takes 88 days to go 'round, the Earth takes a year, and Saturn won't make the trip for nearly 30 years. The actual time of day is represented by a shooting star on the outermost ring. By rotating the bezel, you can set the watch to note a "special" day — on which the Earth stone passes directly under a star engraved onto the crystal itself.
Click through for video. It's totally ridiculous and over the top, but also cool as screaming fuck that this is all done with gears and springs.