So the last year has, for me, been kind of up and down.
Last summer I got very serious about cycling for the first time, really in response to having entered MS150 training season out of shape despite the gains of the previous year. I decided that wouldn't happen again, so I kept riding — an average of 100 miles per week from just before the 150 until the third week in November. It's higher if I grant myself weather or travel related mulligans, even.
Then, of course, that came to a grinding halt when I broke my hip in November. That was a pretty discouraging turn of events, to say the least. The medical saga that followed was a serious pain in the ass; I don't want to make too much of it, since so many other folks have so much worse tales of woe, but spending 10 days in the hospital sucks for anybody. Needing PICC line to quash a post-op infection sucks for anybody. And obviously not being able to put any weight on your leg for three months sucks OUT LOUD for anybody.
The infection got its ass kicked, though. My wounds healed. I got cleared for weight and PT again in February, right on schedule. I started riding again a month later, slow and tentative at first, but regularly.
I got faster, again. I got stronger, again. Part of this was frustrating, because I could remember how strong I had been in the fall, but the other side of starting over is that you get to re-do the part with the most dramatic gains.
I'm still not quite what I was in every way, but I can see it from here.
So here is this, now: the point of this post, in two pictures.
Exhibit A, or, Chet Has Internal Jewelry Now: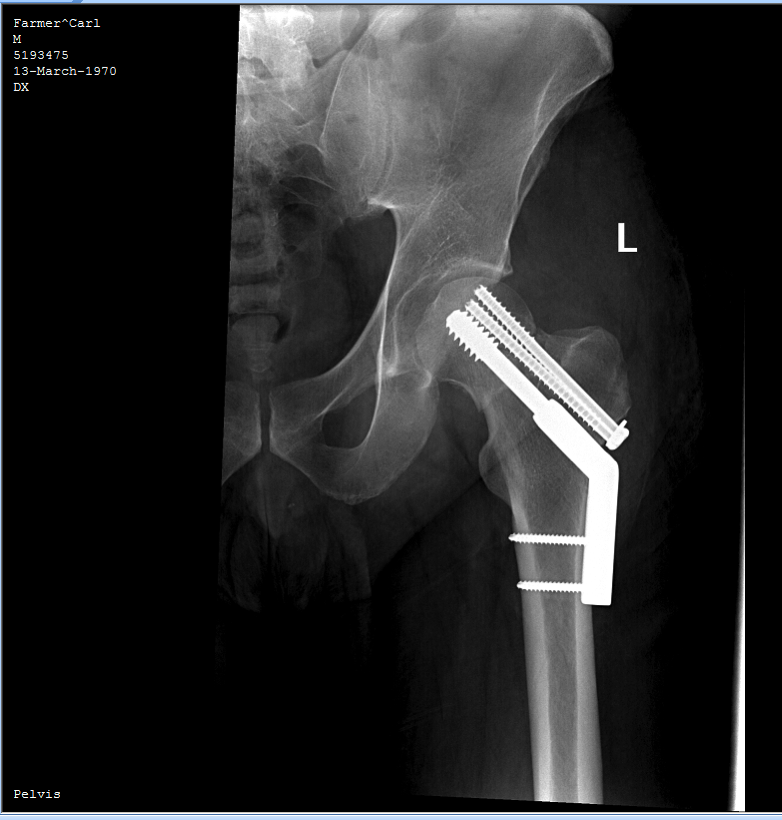 Exhibit B, or, How Chet Spent His Sunday: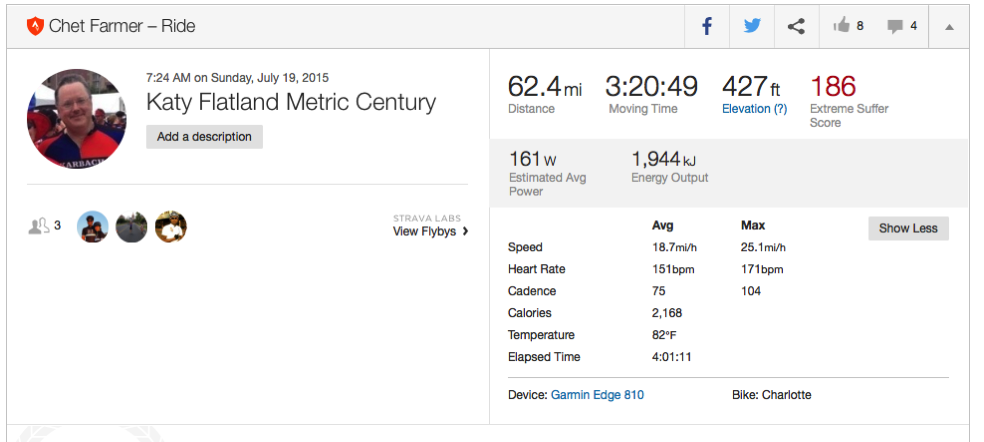 I did this same ride last summer — The Katy Flatland Century — as I was approaching Peak (pre-wreck) Chet. I was very slightly faster yesterday than I was last summer.
The other punchline is this: I rode 109.2 miles in the week ending yesterday. That's my first hundred mile week since November 9.
If I'm honest, I admit that two factors actually erase the speed difference, or even put yesterday behind my achievement last year.
First, I rode with part of my team yesterday, in a paceline, taking turns at the front; last summer, I was alone.

Second, last year I was riding my 30 pound Surly; this time, I was on 18 pounds of carbon designed for go-fast behavior.
It's not just about the number, though. It's about going through something and coming out on the other side, just about 8 months later. It's about regaining this level of fitness, even if it's not where I was at my peak (yet!). It's about getting here not on your own, because that's impossible; it's about getting here with the support of your friends, your family, and the professionals who put me back together and showed me how to get strong again.
And most of all it's about being married to my best friend, without whom absolutely none of this would have happened.