In cycling, we talk about the "century" ride, which is 100 miles. The first day of the MS150 has three starting points, so you can choose your own level of difficulty. If you start in Waller, you do 75 miles. If you start in Katy, it's 85. And if you start at Tully Stadium on the west side of Houston proper, your first day is a century.
When I did my first MS150 in 2013, that's where I started, and on that day I notched my first century since the Reagan administration. I rode from there in 2014, too, on my second MS; here's the summary of that ride:
My time two years ago was better than my time in 2013, but not substantially so. After that ride, I got much more serious about cycling. I started going to regular rides with people who'd kick my ass, and I got strong enough to hang with them. I lost more weight. I even bought a fancy new bicycle to facilitate go-fast behavior. I averaged in excess of 100 miles per week for most of the year.
Then, of course, there was the crash. In November of 2014, I had a little mishap that resulted in pretty serious broken bone, surgery, two hospital stays, and the inability to walk for three months. I was off the bike for six months, and I was weak as hell when I got back on it.
But I kept at it.
And here we are. Yesterday, I rode my first century since day one of the 2014 MS150.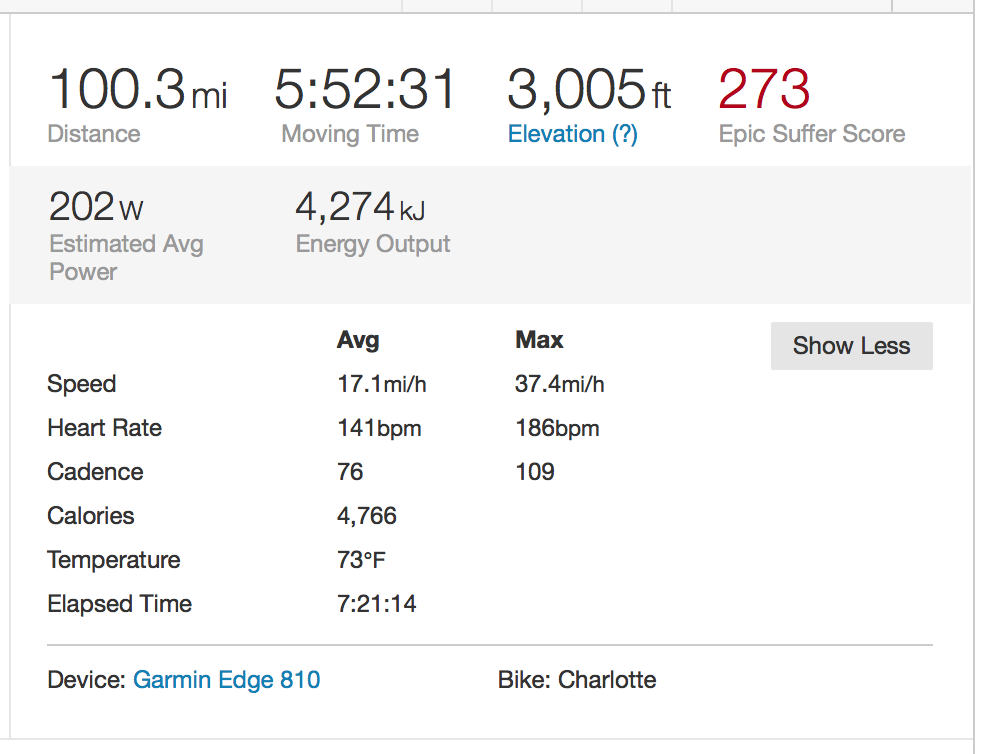 I'm still not a speed demon, but I'm pretty damn happy about turning in a post-injury time over an hour faster than my 2014 effort. I'm not super excited about yesterday's performance; I didn't feel particularly strong, and felt like I was capable of better — maybe it was nutrition, or a failure to taper properly; I dunno. But I'm happy about the trendline. And I couldn't possibly be more thankful for the people who helped me get here: Erin, first and foremost; my team at Karbach Brewing; and my friends from my Tuesday/Thursday rides.
Now: when's the next ride?
(PS: If you'd like, it's still possible to donate to the 2016 MS150; this is my fundraising link — I'd be much obliged!)