FRIENDS!
Over the weekend, I completed my TENTH MS150 ride to end Multiple Sclerosis. I say that, and it's true that this is the tenth time I've been REGISTERED for this ride, but the slings and arrows of outrageous fortune have had their way with this event over the years. To wit:
2013: YEAR ONE. I ride a two-day event ending in downtown Austin, but I do it SLOW because I am FAT.
2014: Sure, why not do it again? I'm a little slimmer but still very slow. My team masses up just outside downtown to roll across the finish line together, which is EXHILARATING but also a giant PITA for our friends and family waiting at the ACTUAL finish.
2015: The weather conspires to take the first day of the event, which is fine because I do not ride, owing to certain medical misadventures, but I still raise money — by now, the mission of the event has taken root in my head, and so fundraising tops $5,000.
2016: Participation on the weekend is lower because of threatening weather, but my team saddles up for day 1, the hundred mile route into La Grange. Day 2 is cancelled during Saturday's ride, which (unfortunately?) opens the door for a seriously epic bash in the campground. Fun was had, but the hangovers were definitely earned.
2017: AT LAST a return to the two-day ride plan! We didn't know it at the time, but this would be the last ride to finish in downtown Austin.
2018: I'm a lot stronger, which is fun, and my pals and I knock out the first day in a hair over 5 hours. Day 2 ends at Circuit of the Americas, a huge Formula 1 track outside Austin. This is NOT a great endpoint, but any port in a storm.
2019: COTA again, but by now acknowledged as a stopgap. This is my strongest two-day effort, and the only time I felt up to doing the "challenge" route through the state park outside Bastrop. I'm really bummed about that — I probably could've done it in '17 and '18, but confidence is a bitch sometimes.
2020: The ORIGINAL plan for the 2020 ride, released in late 2019, was a reimagining of day 2 entirely. The day one routes and endpoint (La Grange) work well and were retained, but day 2 would bring the ride back east and forsake Austin for College Station. Texas A&M was VERY welcoming, and set up a plan for riders to finish ON KYLE FIELD. The logistics of ending this event in a place like that, which was already engineered to entertain 100,000+ people, were VERY attractive. And then COVID happened. Initially, the ride was pushed to the fall and reduced to a one-day event going to College Station, but that was just wishful thinking. COVID eventually forced a full cancellation.
2021: With COVID waning a bit, they tried to do the one-day College Station plan again, but weather eventually forced an 11th hour cancellation. Even so, I hit a personal best on fundraising of over $17,400.
2022: Now, finally, we get the full two-day College Station plan. It was, by all accounts a HUGE success!
So if you're keeping track, out of ten rides, I've actually done a 2-day effort only 6 times. Two we lost to due to COVID; one I sat out entirely for medical reasons; and once we lost day 2. Oh well!
So, Chet, how'd it go this year?

Great question! Let me tell you.

You ride a whole bunch! I'll bet you just ate this up with a spoon, right?

Well, funny thing about that. It's true I AM a pretty dedicated rider, and usually notch 100-140 miles in any given week including back-to-back efforts on the weekends, especially this time of year, and largely to prep for this event. But this time around, a crash back in March utterly derailed my training at a critical time. I lost several weeks of those back-to-back efforts, and came into the ride at a lower level of fitness than I wanted.

Wait. Crash? What?

Yeah, not a big deal in the larger scope of things — nothing broken, gnarly roadrash, sprained shoulder, etc — but I had to lay off a while. Had it been a month further back, it would've made all the difference.

Quit bitching. You did the ride, didn't you?

Damn right. It was just harder than I expected.

Define "harder"?

Well, we still kept a solid pace though the start of the hills on day one, but it was slower than in prior years owing to (a) a shared lower fitness with my immediate cadre of pals and (b) the fact that 3 folks made the choice to do the ride on mountain bikes as training for an ultra-endurance event called Leadville later in the year. The gearing on those makes it VERY hard to maintain speeds that are not especially fast on a road bike, but owing to point (a) this was less of an issue.

Who are these weirdos you rode with?

Aha! There's a picture! L to R: Your Humble Author; Amish Mechanic; Everyone's Favorite Bulldozer Rep; She Who Questioned Her Choices A Bit; Person I Don't Know Well Enough To Have A Funny Name For; The Charming Axis of Bradford & Cody; The Amazing Returning Cory. (It amuses me to note that there are 5 A&M degrees represented across only 8 folks, but one person is double dipping.)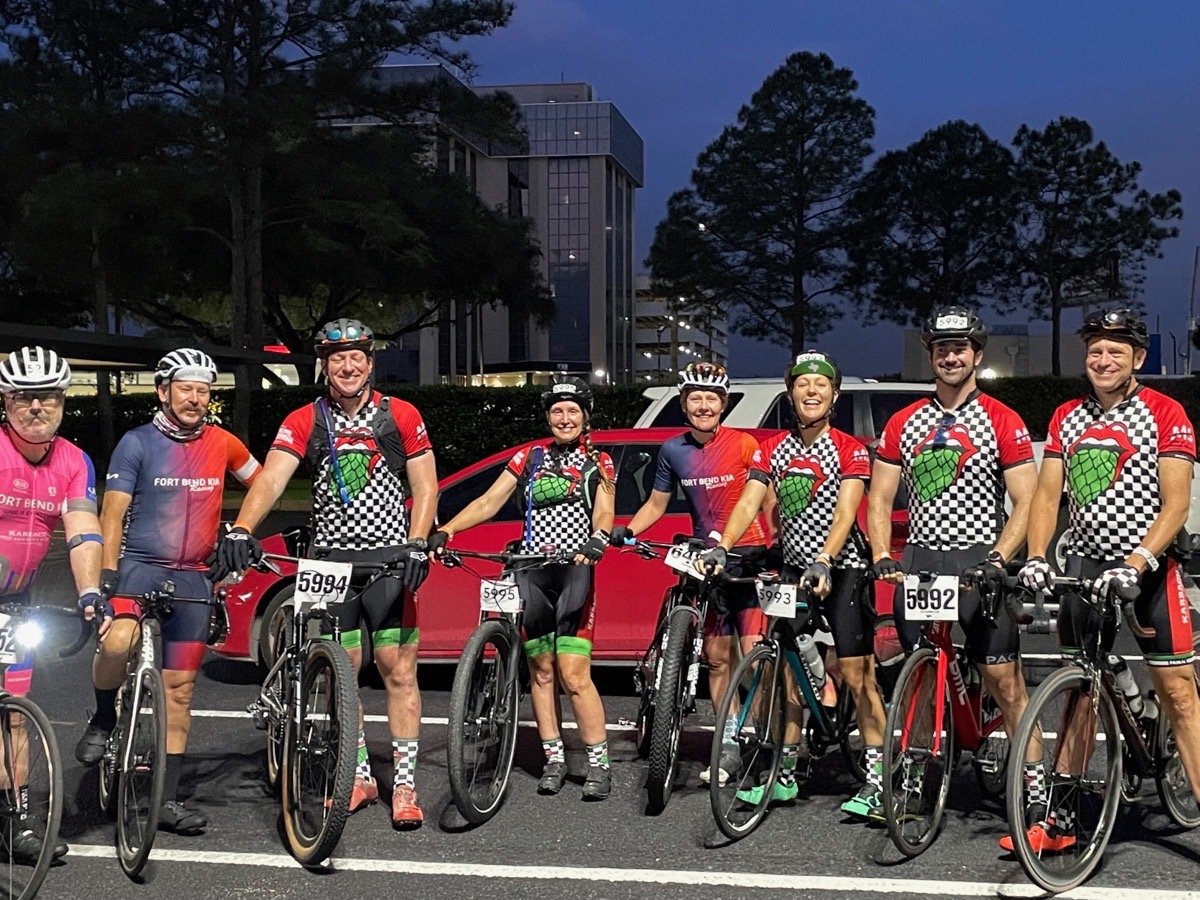 Ok, so then what?

Well, as expected, things got harder for me once the hills hit in Bellville, or about halfway. You can see the elevation graph below; that's where the Hill Country starts. I am a flatlander, and I am 52 and mildly overweight, and so these are hard for me. But that's not what made the day suck.

What DID make the day suck?

Cramps. I am not, historically, a person who cramps up. I ride thousands of miles every summer in Houston's tropical humidity and heat, and it really never comes up. I only recently started carrying salt-supplement tablets, and I mostly have them to give to OTHER people. I'm careful about on-bike hydration and nutrition — any long effort is at least partly an exercise in body chemistry; you MUST eat and drink a LOT to ride 100 miles — and so I figured this was a solved problem for me.

Around mile 60, it becamse clear that no, this was NOT a solved problem for me, and that the rest of the day was going to suck out loud.

That sounds bad.

Yeah, you're not wrong. The weird thing is that, according to Strava for Day 1, I actually covered the second half of the ride in SLIGHTLY less time than I did in 2019. I have no idea how that could be true, because I felt like CRAP and could only occasionally really put my legs into it; most attempts at any real power would bring back the cramps. But I didn't sag. I don't sag.

What DIDN'T suck about the day?

The company. Even once I was mostly riding alone, I still ran into my friends on the regular — with the exception of the very HEAD end of folks, we weren't THAT far apart on the route, and so we'd see each other at rest stops, or pass one another and start riding together again. The suck is ameliorated in good company.

I'll bet it felt good to stop!

Absolutely, but in this case it was very much in the way that it feels good to stop smashing yourself in the head with a ball-peen hammer. I was so wrecked that I gave SERIOUS thought to bailing on day 2.

But did you die?

Reader, I did not in fact die. A coke, a beer, a giant jug of electrolyte recovery drink, and a huge plate of Mexican food led directly to about 10 hours sleep, and that helped a LOT. I wasn't exactly bright eyed and bushy tailed by Sunday morning, but I was no longer in danger of quitting. After all, I had 70 donors watching me via LiveTrack!

So tell us about day 2.

Traditionally, day 1 of this ride, at least for stronger riders, is about seeing what they can do. Put your back into it, and drop the hammer, and test yourself. Day 2, on the other hand, is about riding with your teammates and friends, and for that I was GRATEFUL. I rolled out with a small set of pals — mostly the folks enumerated above — and we put some speed out for about 15-20 miles before a few of us decided to drop back and let the stronger ones surge ahead. That triad of folks — me, my pal Bruno, and Eric Cody from day 1 — really ended up doing most of the 80 miles into College Station in some flavor of together. Some of the time it was Bruno pulling me, and some of the time it was me and Bruno pulling Eric, but it was definitely cooperative.

Did the cramps come back?

NO, thank God. I had limited power until lunch, but figuring I was probably low on fuel we DID stop at the lunch stop and eat. We don't normally do this — we skipped lunch on day 1, for example, as we nearly ALWAYS do — but on Sunday, I needed it. This made a huge difference for the back half of the day; I was finally able to put down a little power, and felt good about finishing the ride. Also, lunch pics with BRUNO and ELLENDROTT!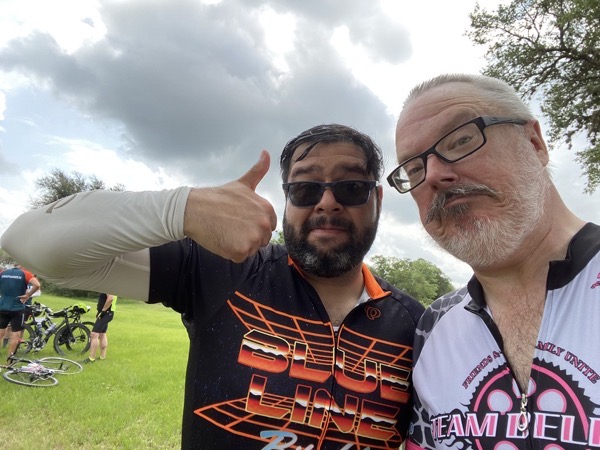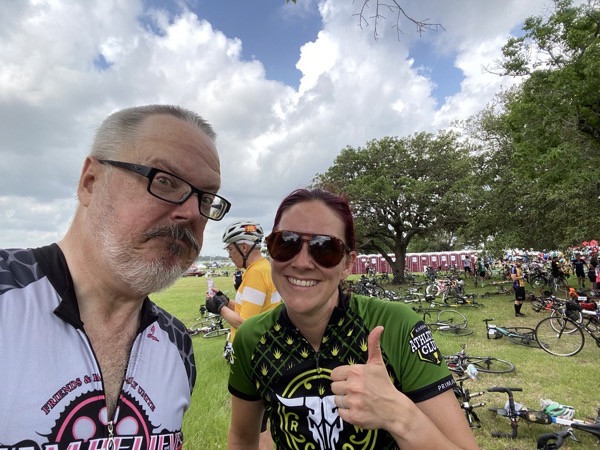 Anything else?

Yeah, impromptu breaks helped, too.

"Impromptu?"

Yeah, the Society I guess lost the usual day-2 lunch sponsor (HEB), and as such had no drinks other than water or Gatorade at lunch. Eric and Bruno and I, though, REALLY REALY wanted (and had ANTICIPATED) a Coke. (You have NO idea how good a Coke can be on a hot day like that.) As luck would have it, a stopped freight train not long after lunch left us idle for a few minutes in front of a gas station, and so…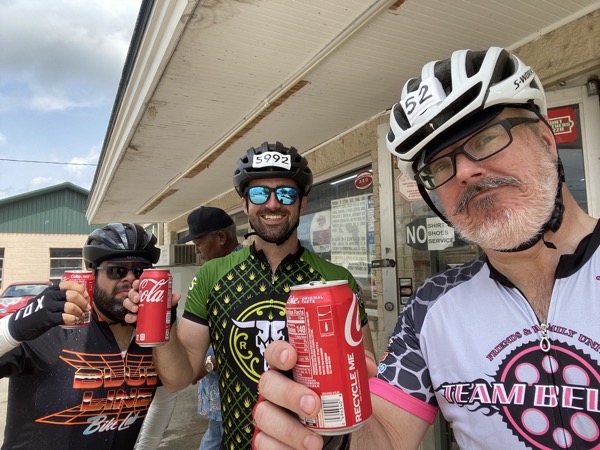 Let's talk about momentum

That's where we find ourselves after the Cokes. We were over 50 miles into what we thought was an 80 mile day, so definitely on the downhill side. (Turns out, it was 85 miles, the extra 5 wasn't on our radar until later.) Plus, the elevation gains for this ride were actually mostly behind us, which we knew, and which made us feel a LOT better.

How about that finish?

It was, as expected, pretty damn awesome. A&M has every right to be proud here; they rolled out the red carpet for us. The ride literally finished on the football field. We did a "victory lap" around the field, and my name was announced (in my capacity as a top fundraiser) while Erin and other friends already finished cheered for me. That was pretty darn nice, and WAY better than the ending experience at either COTA or downtown Austin.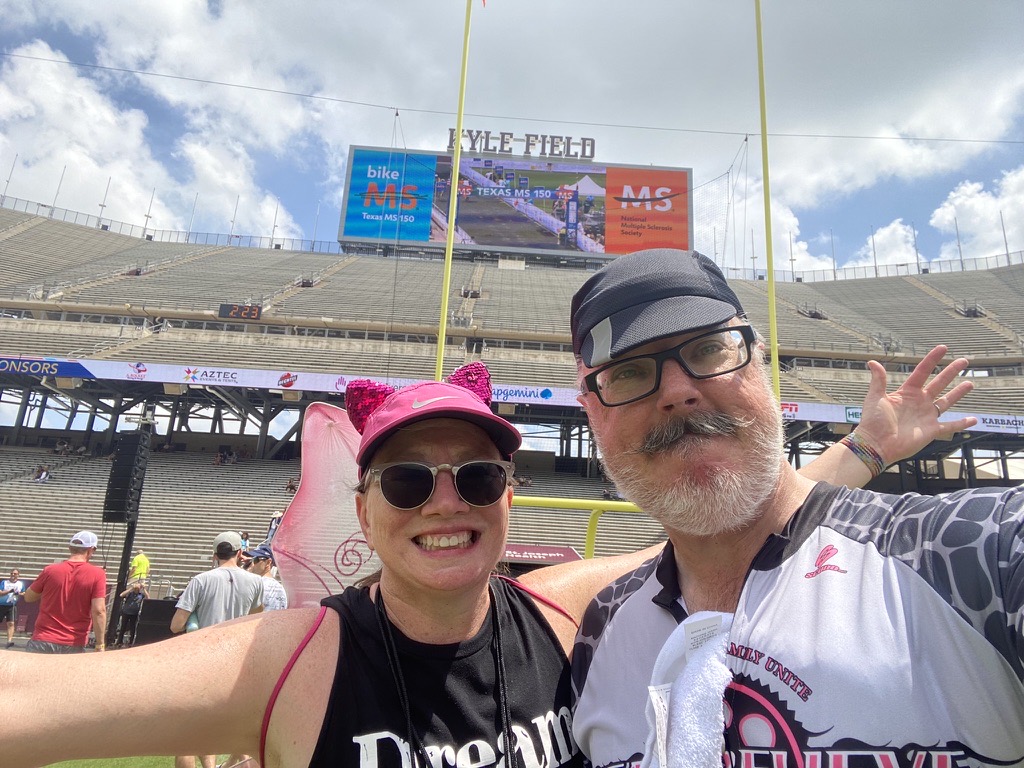 And what about the REST?

Well, there is one other thing. This year, I topped $100,000 in lifetime fundraising for this event. If you're reading this, there's a very very good chance you're a part of that. Your support means the world to me, and it WAS that support that kept me rolling when things were going poorly for me on Saturday. I thank you, and the Society thanks you.