Scary as FUCK, that's what.
Seriously, though, it's a timed, multilap bicycle race over a relatively short closed course. We had one here in Houston on Sunday morning, and while I don't participate, I have a lot of friends who do.
It's not one big race, obviously. Bike racing, like most sports, is split into levels. Let's be clear, too: Cat 5 riders are CRAZY strong compared to non-racing folks. I've been doing pretty serious structured workouts for 6+ months now, and I'm absolutely sure that I'd still be dead last in any competitive Cat 5 field.
Rank beginners are Cat 5.
Some of those will progress to Cat 4.
Getting to Cat 3 involves a shitload of work and no small amount of talent. I don't know many Cat 3 road racers.
By the time you're in Cat 2 or Cat 1, you're getting lots of stuff for free.
Above Cat 1 you find the Pro ranks — and it's a long way from being a local pro to the class of folks you'll see on the Champs-Élysées every summer.
And for logistics purposes, these categories combined for actual races. For example, we had friends in 4 different races on Sunday morning:
1 in the Men's Cat 4/5 race;
4 in the combined Women's Cat 4/5 & Women's 40+ 3/4/5 race;
Several in Men's Masters 4/5 (35+);
Plus my coach Jason in the Men's Cat 3
Jason was doing well going into the final lap, but in close-quarters riding like this crashes are a risk, and they had one. Jason didn't go down, but he was behind it enough that it blew his finish.
Someone very close to Jason in the peloton had Garmin cameras on the front and back of his bike, and has posted the final lap. You don't really see Jason until the post-crash moments, when he edits in the rear-facing footage, but when you do it's super clear how close he came to being in a super scary sprinting pileup.
He's here (click to embiggen; note they're at 25MPH here!):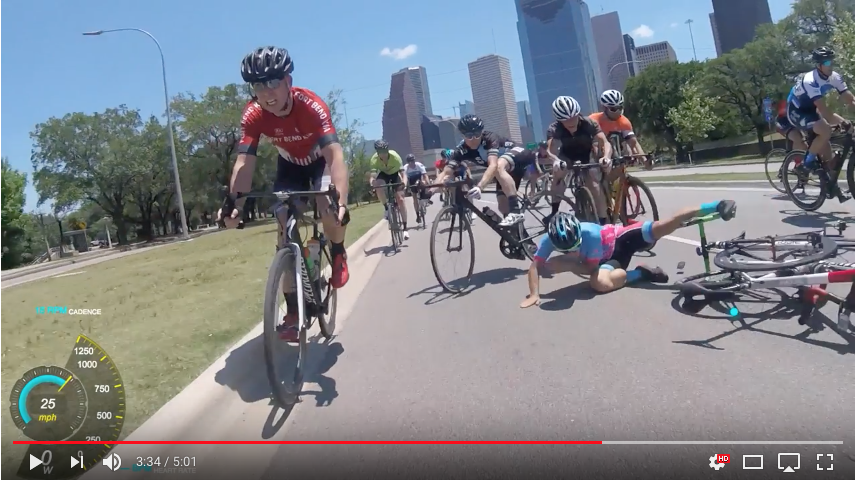 And here's the whole video:
Stay with the video until the finish, and pay attention to the lower left; the camera setup used by the rider allows him to superimpose his speed and power on the screen. Yes, they're sprinting at 40MPH.
For more fun footage, check out this guy's 7:30 video, which includes some sweet overhead drone footage.