In which I answer the hypothetical question "how was your weekend?"
"Oh, the usual. Drove to Wichita Falls. Drank a bunch of beer. Rode 100 miles. Couple other things."
Wichita Falls? A Hundred miles? WAT?
Yeah, it's a thing. The event is the Hotter'n Hell Hundred up in Wichita Falls, Texas. It's the largest organized century ride in the country. People come from all over — I rode with folks from Missouri, Colorado, etc. It's a Big Deal in the cycling world, with at least some bragging rights associated & whatnot.
In which I explain, in part, how this came to be.
Turns out, I have a really, really great cycling team (Karbach Brewing), and a group of them were going and — more to the point — knew how to do this right. There were rented RVs, plenty of pop-up shade tents, and (crucially) folks to ride with. We ended up with maybe 26 or 28 folks there.
All I had to do was register, show up, and pay my share of the RV rental.
Oh, and train for the other two events AND the century.
In which the "Triple Threat" is explained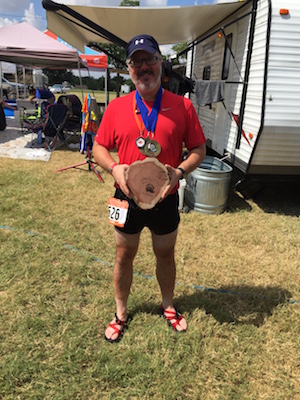 I figured "hey, if I'm going all the way to Wichita Falls, may as well go full monty." And the Full Monty at Hotter'n Hell is something called the Triple Threat.
On Friday, you do a 13 mile mountain bike race. For me, this was my 5th or 6th time ever on a mountain bike.
On Saturday, you have the eponymous Hotter'n Hell Hundred.
On Sunday, for good measure, run a half marathon on the mountain bike trail.
Complete the Triple Threat, and you get one hell of a trophy. I wanted that trophy. See pic.
At least I didn't go middle-aged crazy and buy a sports car or something.
Um.
This explains where you've been all summer
Right. I ride about 100 miles a week anyway, but I had to fold in some mountain biking AND enough running/jogging to complete the half. This made for a busy summer.
Dept. of Credit Where Credit Is Due
I never would have gotten this done without three big factors.
Number one, as always, is Erin. She's been an incredible support to me in this. She's done half marathons, and so in addition to logistical, emotional, and spiritual help she also had words of encouragement, training tips, and even route advice.

The Karbach team. I wasn't doing this alone; I had literally two dozen friends also ramping up to this.

Longtime readers may recall a slight medical adventure from 652 days ago (not that I'm counting). I hate running, but completing the Triple Threat seemed like an excellent way to say "Fuck you, broken hip!"
Comfort on the Frontier
It didn't hurt that our camp/compound included air-conditioned RVs, a huge covered area, a pool, and an inflatable movie screen.
Oh, and free beer.
In which we disclose what noises Ryan makes when he leans on the wrong side of the inflatable pool
"Ohshitohshitohshitohshit!"
What'd that look like?
This (artist's conception):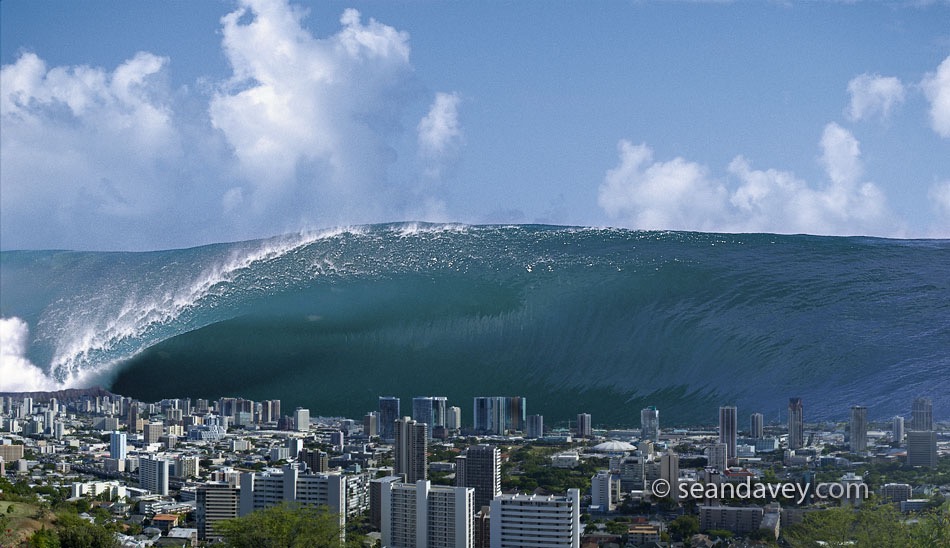 Important Lessons Re: Inflatable Pools
"Do not store important items downhill from the inflatable pool."
Key fact re: enormous amounts of previously-in-the-pool water in Wichita Falls
Unlike in Houston, where the water would set up housekeeping and create a new wetland complete with Zika-laden mosquitos, crawfish, and possibly alligators, up there the water just DISAPPEARS. It's witchcraft, I tell you.
(This will be important later.)
In which OU fans are adorable
One day, the pool water turned red. No idea why; we assumed it was something to do with the chlorine tablet. Only later did we discover that some, um, less observant OU fans camped nearby had seen ONE guy in a UT hat, assumed we were all UT/Austin people, and dumped food coloring in the pool. The joke was COMPLETELY lost on this Houston-based, diversely-educated crowd until the OU folks came by to try and figure out why their joke had gone flat. Oh, Sooners; you're adorable.
In which we encounter terrible food on Thursday, Pt 1
At lunch, we were faced with the following question: What terrible sequence of life choices could result in being a Wendy's loyalty card holder?
In which we encounter terrible food on Thursday, Pt 2
That the Tex-Mex restaurant we ate at on Thursday night did not have margaritas, but did serve both frito pie and chicken fried steak, is pretty much all the evidence required to prove that, at least morally, Wichita Falls is best understood as part of Oklahoma.
In which we are able to support the previous assertion with maps
The route on the Hundred did in fact take us perilously close to Oklahoma: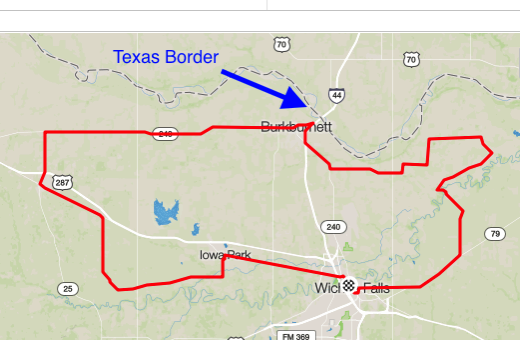 More proof of fundamental hellscape nature of Wichita Falls
Said Tex-Mex joint proudly displayed its local awards for "best chips and salsa" from three consecutive and recent years. The chips were clearly Tostitos, and the salsa was obviously Pace.
Hotter'n Hell, y'all.
Possible tourism slogans available to the greater Wichita Falls metroplex
"What happens in Wichita Falls stays in Wichita Falls."
The Dean Miller Theory of RV-based Instant Oatmeal Preparation
It is, apparently, impossible. But it takes half an hour to explain why.
Confidential to certain parties regarding RV selection in the middle of the night
It is possible that "has a grill" is not a sufficiently unique key.
I forget the answer, but this is a fine question to overhear while drinking beer.
"Hey Dean, where'd you dive with all them barracudas?"
To Hell With Context, Pt. 1
"I got the meat sweats, Pop!"
In which we re-assert findings first published this summer
Mountain bike racing is hard, yo.
Was it made harder by folks who will not get out of your way, and thus force you to walk up berms you're pretty sure you could ride up otherwise?
Yes.
How I feel about being passed by a girl who started 6 minutes later
Absolutely fine, since she is a cat 3 road racer young enough to be my daughter.
Would I do the MTB race again?
Oh yes.
And now, a word on Day 2
Shockingly, I found the HTH to be easily the least miserable century I've ever ridden.
So was it, in fact, Hotter'n Hell?
If you're from Colorado, I'm sure mid-90s to 100s in Wichita Falls is trouble for you.
I am from Houston. The general lack of humidity made the temps much, much more managable vs. the weather we train in down here. Drink enough water and you're fine.
Also, of course, we were kinda sandbagging given the Looming Awfulness of Sunday's task.
What sucked more than heat
CHIPSEAL ROADS. Holy crap, that stuff will shake you to pieces, and the vibration makes the ride much more fatiguing. Fortunately, no more than 85-90 miles of the century were on chipseal.
A brief digression about bicycle design as relates to crappy roads
There's no reason for you to know this, but the model of bike I ride is a Specialized Roubaix. It's named "Roubaix" after a particularly grueling race (the Paris-Roubaix) that is ridden on streets made of cobblestones. Cobblestones are awful to ride on — treacherous, yes, but also bumpy as hell. Super-stiff race bikes make it worse, so Specialized developed a bike designed to be quick and compliant while also providing a bit of insulation from bad road conditions.
That I was unhappy even on this bike should give you some idea how delightful my colleagues on racier, stiffer bikes found the roads.
Remember that thing about disappearing water?
In Houston, when you ride in the heat, you just get sweaty, and the sweat doesn't go anywhere. It just sits in your clothes like an ambulatory lukewarm bath.
In Wichita Falls, when you ride in the heat, you still sweat, but the sweat evaporates, and thereby provides evaporative cooling. I am told that scientists believe this is the reason we sweat, but as a lifelong swamp dweller I am unable to confirm this hypothesis.
I can tell you, however, that it's damn strange to get back on your bike after fixing a flat and discover that the resulting wind, sweat, and evaporation combination is making you cold despite an ambient air temp of 95+.
Would I do the Hundred again?
Oh, sure. I know it sounds bananas, but riding 100 miles is something I know I can do. I've done it lots, and the conditions in Wichita Falls aren't bad if you factor out the chipseal.
Evidence of our Rock-and-Roll Cycling Lifestyle
After the century, pretty much everyone in the camp was asleep by 8:30PM.
To Hell With Context, Pt. 2
"When I say house wine, I mean Jaeger."
Thoughts on rising early to run a damn half marathon
"I have fallen in with a bad crowd, and they are making me do dumb things."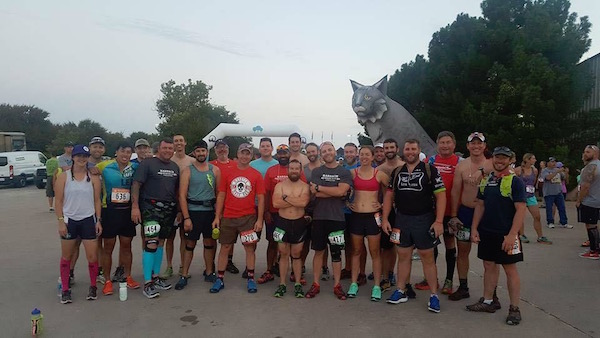 (l to r: Other-Erin, Kevin, Scottie, David, Dub, Jared, Alfred, the author, No-Oatmeal Dean, Dylan, JRod, Tall Colin, Not Tall Chad, Grant, Fearless Leader LeSage, Seth, Ruthless, Chad, Eric, Theoretical Podcasting Partner Mike, Random Dean, Ryan, Long Lost Jack Soto)
But you did it anyway, right?
You're damned skippy.
A fun thing to note that is, nevertheless, statistically questionable
"This was may fastest half marathon EVER!"
A sad note regarding our podcast empire
"Chet and Mike's Nature Hike Spectacular" turned out to be an idea better honored in creation than execution.
HOWTO make Chet very happy and then mildly disappointed but still happy
Hand him a can of his favorite beer as he crosses the finish line, but make sure there's no more than an inch of beer left in it.
(j/k)
All that said, I think I'll retire the shorts.
Can you blame me?