Far-flung folks are worried, so, first: Erin and I are fine. We stay fine. Our home has never, ever flooded, and probably won't this time, just because of the mild elevation our area enjoys.
We have power. We have food, bourbon, wine, cable, and Internet. But much of Houston has none of these things right now, and there but by the grace of God, you know? I'd love to be able to say I made a study of Houston flood plains when I bought this place, but in truth I just bought what i could afford in the neighborhood I wanted to live in — the elevation is a happy accident, but it's a VERY happy accident indeed.
Now, some context.
There's a picture being tossed around in social media that I want to share, and annotate a bit. It was taken from a high-rise apartment building at Studemont and Memorial, and looks back to the southeast towards our neighborhood, and includes Buffalo Bayou, which is one of the many natural waterways that run through Houston.
Here's the neighborhood in question from Google maps: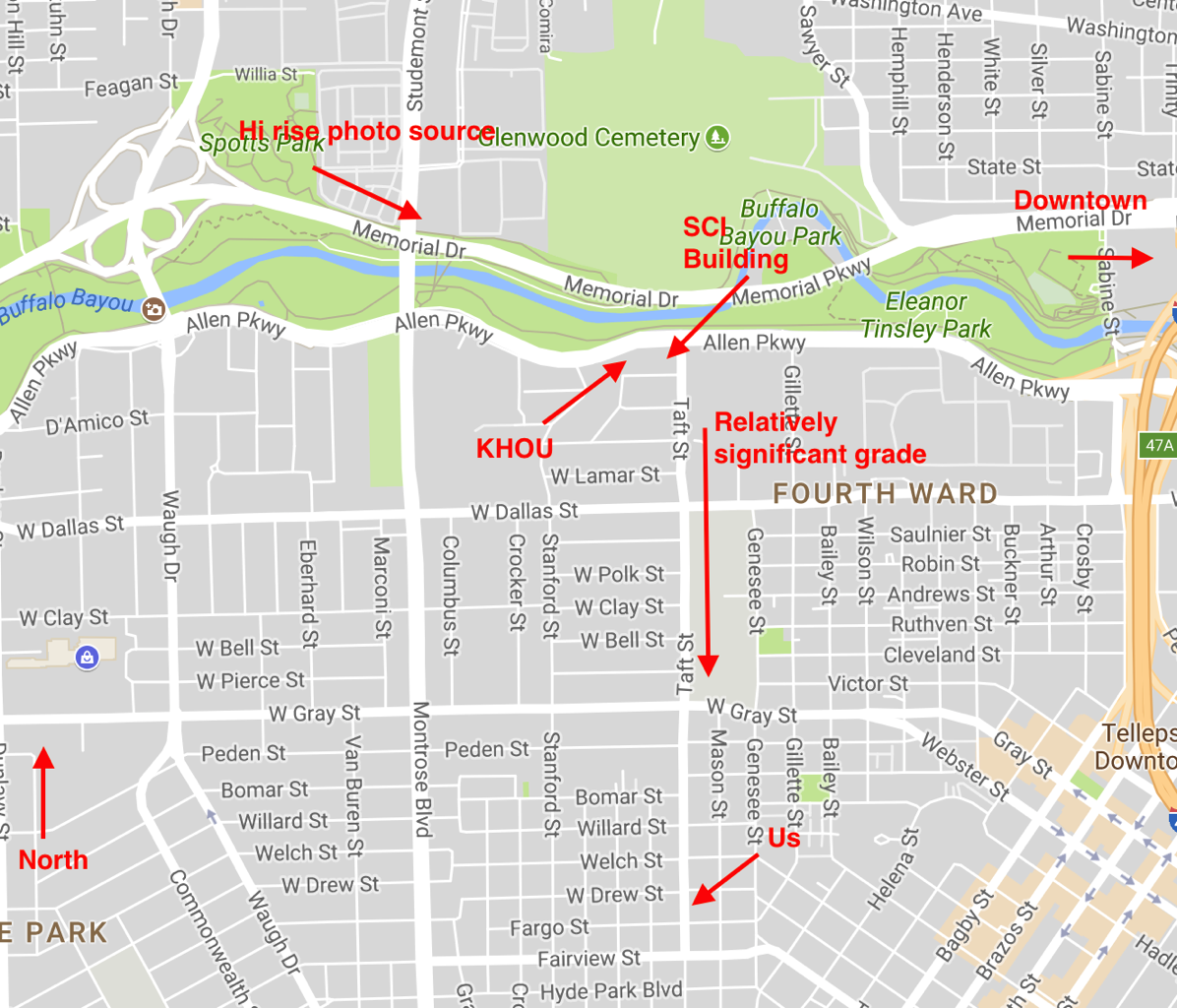 Key things to look for are the headquarters for Service Corporation International (who are, by the way, straight-up evil) and the studios for local TV station KHOU.
And here's what the bayou looks like normally, with the same points marked — n.b. that the bayou is lined by a couple levels of paths and no small amount of greenspace. It's a lovely area; people run and bike and walk and picnic there all the time. Trails there are connected to a network that stretches through huge parts of the city, and that network is growing all the time.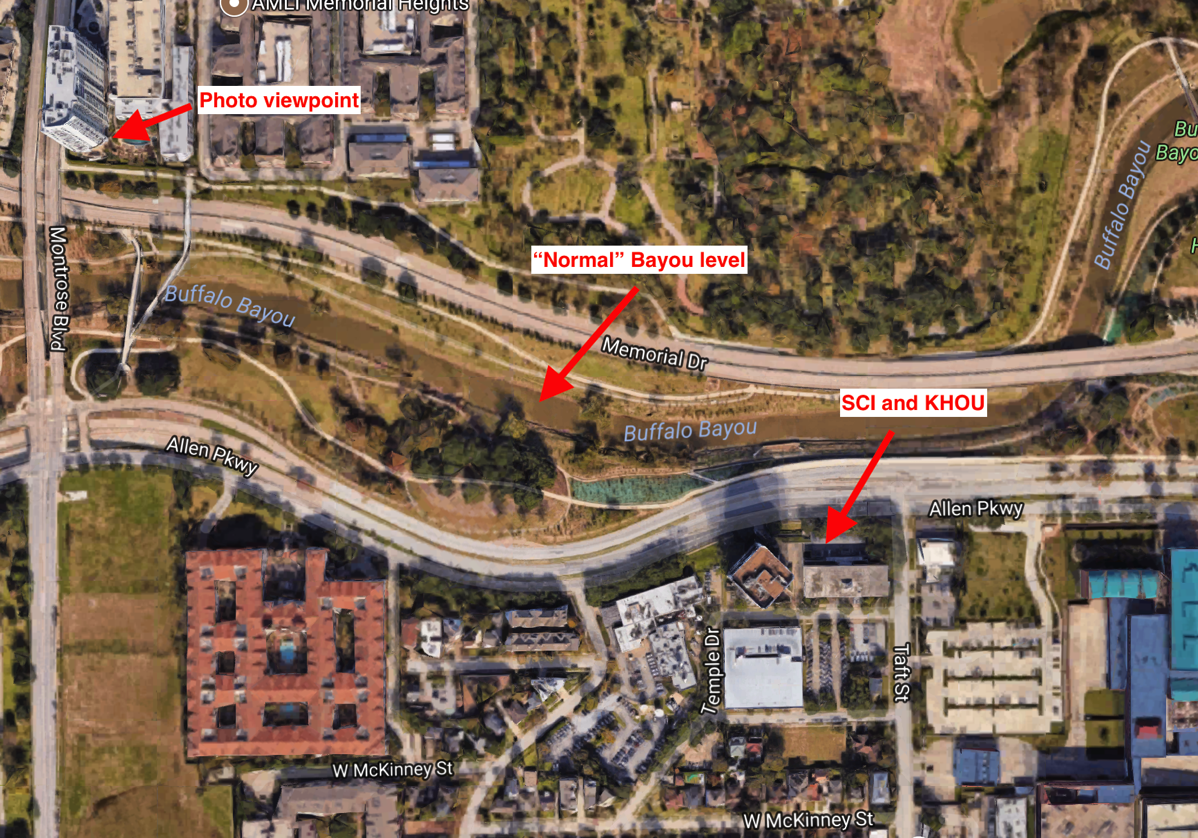 And here's what it looks like right now: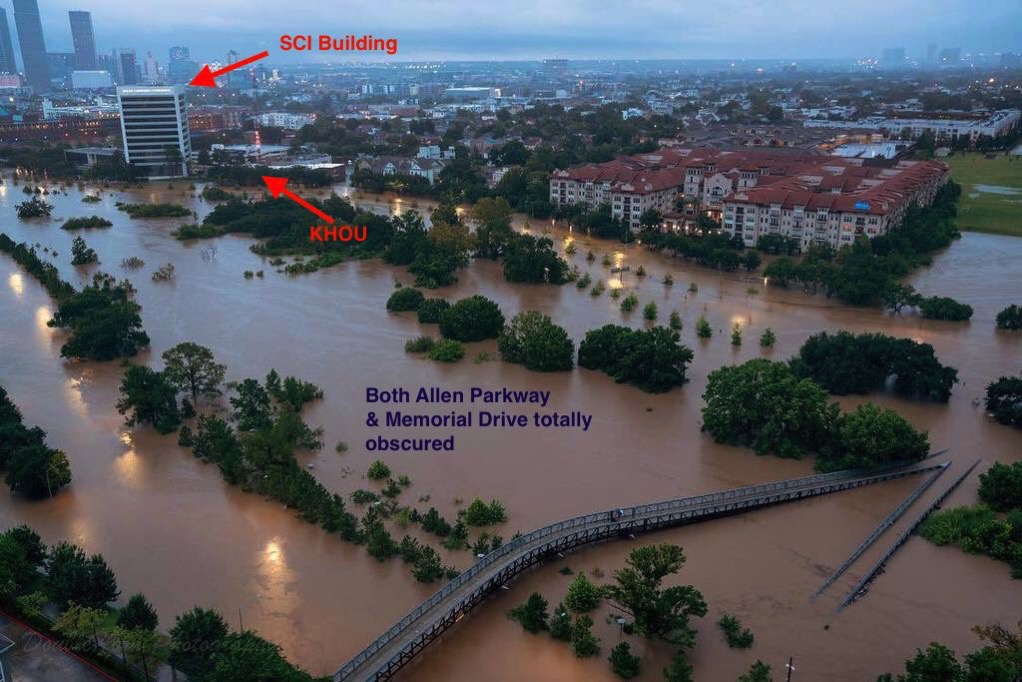 KHOU has had to evacuate. The uphill grade on Taft is what's saving us, basically, but the waterline ON Taft is far, far higher than we've ever seen it — only a block or so north of Dallas, which is completely BANANAS, because the idea of the water at that point covering even Allen Parkway is pretty unusual.
Now, that's still a long way from us, both in terms of distance but also in terms of elevation, but it's still shocking.